Create your own interactive website – Learn how to use WordPress – 5-hour Starter Course held in Dublin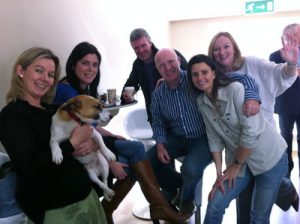 What is this course about: This course will show you how to create a free blog or website using the WordPress.com platform, or your already set up WordPress.org account – it could be a private or commercial site depending on what you need. We will all set up our own accounts using WordPress.com as our host, which means you don't need your own website, a host or any technical web master skills (such as uploading files using an FTP programme etc.) and you don't have to pay for an account, host or anything else – we will use only free features, and believe me, there are loads of them.
This course is about learning and using a WordPress.com blog and its features. Upgrading your blog, setting up multiple blogs, hosting them yourself or integrating them into your existing website are all possibilities down the line, and if you're interested in a self-hosted WordPress powered website please check out the additional WordPress.org information. First of all you should become familiar with the basics, create a site you can use and practise with, write posts, upload photos, create galleries and slide shows, change the blog's appearance, use different themes and widgets, and see for yourself just how much WordPress.com can do for you – and then decide what you want to do with it.
Who is this course for:
For anybody who has access to a laptop and knows how to use a computer as a normal user – browsing the internet, checking e-mails and using simple applications such as Word.
People with an existing website built in WordPress who would like to learn how to keep it up-to-date.
Start-ups, small businesses, non-profit organisations, clubs and groups, or anybody who does not have the resources to hire a webmaster, and who would like to have an interactive website, that they can easily update and change by themselves, from any computer with an internet connection, without any cost. Here is an example of a very simple site I've set up for a Dublin estate The Gallops, we synchronised it with Facebook and have over 1,300 visitors signed up to receive updates. Residents stay informed on what's happening in their estate and can also support their Residents Association financially using a simple PayPal donations (which meant going from door to door previously)  – the response has been fantastic!
People who would like to share their professional experiences and find new paths to employment. If you want to re-brand yourself for example, and want to find ways to stand out from the crowd and get noticed. Blogging is a great tool to show off your expertise, and it will be indexed in Google very quickly – show them what you have to offer! Just as a note, everybody has something special to offer from accountancy advice, to teaching experience, or make-up and fashion advice.
Last but not least, people who like to share their interests. This could be a private blog for friends and family, or a blog open to the world. Many people use a blog to keep in touch and update others when travelling, or to share tips and advice on a hobby like photography, gardening, cooking, fashion or anything at all that they're passionate about!
What do you need to know before you start the course:
As mentioned above you should know how to use a computer as a normal user – browsing the internet, checking e-mails and using simple applications such as Word.
You need to have an e-mail address which you can access during the course.
What do you need to bring to the course:
You will need to bring a laptop you are familiar with on the day (not a tablet), which you can connect to an open wifi network.
What will you know and have after the course:
You will have your own free WordPress.com account set up, know how to change themes and widgets in your sidebar, and how to create posts on your blog and static pages like on a normal website. You will be able to upload photos to your posts and pages, create galleries and slide shows out of them, use the visual editor, and create a navigation bar, categories and tags. You will also learn how to use the new block editor 'Gutenberg' and how to edit images for the web, change your personal settings, allow or disallow comments and how to fight spam.
To see some feedback from former participants please see our Feedback page.
You will receive a manual for the course on all topics covered, with detailed instructions to assist you in the future administration of your online presence.
You will get an allocation of file storage (about 2,500 pictures worth!). You can blog as much as you want for free, your blog can be public to the world or private for just your friends, and any premium features are completely optional.
Please note: Your page will contain 'wordpress' in it's url (internet address), such as yourcompany.wordpress.com. You can upgrade later and get rid of the 'wordpress' in your domain if you like – also covered in the WordPress.com Advanced Course. However the idea of this course is to use it for free and become familiar with WordPress.com features first – if you want to change in the future you can. Differences between WordPress.com and WordPress.org.
Got a question?
Have a look through our Frequently asked questions.
Where, when and how much:
The course will be around 5 hours long (including time for plenty questions & answers), which I know from teaching other courses, is a very good time frame to learn and practise as much as possible. The course is priced at €189 per person and limited to 6 participants. For an early bird discount and more discounts when signing up for more than one course, please see our price list.
If you are interested in attending a course, please contact me at julie@wp-training.ie and I will get back to you as soon as possible. I will answer all comments by e-mail, so please add 'julie@wp-training.ie' to your contacts, otherwise my answer might end up in your spam folder.
And here is a 3 minute video 'Blogs in plain English':
[youtube=http://www.youtube.com/watch?v=NN2I1pWXjXI&w=425&h=344]