WordPress Starter & Advanced Courses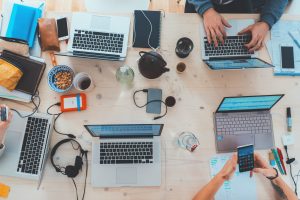 All our courses are held at The Open College in Dublin 18, taught by Julie Sebode and are limited to 8 participants. We have a choice of rooms but experience has shown us that most people prefer to bring and use their own laptops for the courses, therefore we will offer all our courses from now on in a meeting room with Ethernet internet connections and wifi option – please note all participants will need to bring a laptop that they are familiar with on the day!
By special request we can also run any course in a computer room, using PC desktop computers, or organise courses on specific dates outside our schedule. Please contact us for more information.
Customised training for your WordPress based website
Our customised training is built around your existing WordPress based website, whether it uses WordPress.com or WordPress.org, and can take place on-site in your offices.
We provide training for individuals or groups of up to 8 people, and will provide detailed notes on all the topics covered for future reference. Our training will cover everything your staff will need to know to update your website independently, and will be specific to your theme and functionality. Advice on search engine optimisation (SEO) is included, and the course complexity is designed around your staffs' existing website knowledge.
Read more about customised training for your WordPress based website and please have a look at our feedback page to see what former participants say about our customised training.
WordPress.com Starter Course – Create your own website and blog
We offer WordPress Starter Courses for anybody who is interested in creating their own blog or interactive website. In this course you will set up your own free WordPress.com account, learn how to change themes and widgets in your sidebar, create posts on your blog and static pages like on a normal website. You will learn how to upload photos to your posts and pages, create galleries and slide shows with them and create a navigation bar, categories and tags. You will also learn how to change your personal settings, allow or disallow comments and how to fight spam.
This course is tailored to people who use a computer as a normal user – browsing the internet, checking e-mails and using simple applications such as Word. Read more about the WordPress Starter Courses and please have a look at our feedback page to see what former participants say about our Starter Courses.
WordPress.com Advanced Course – connect to social media for online marketing
The Starter course is followed by the WordPress Advanced Course. When you feel comfortable using everything we've done in the Starter Course, you are welcome to join the Advanced Course – that might be a couple of weeks later, or half a year – it really doesn't matter. What is important is that you have a good knowledge of all the topics from the Starter Course and ideally you will have a personal Facebook account. Here you will learn a little more about spam, uploading a blog icon, synchronise your WordPress website with social media such as Facebook, Twitter and LinkedIn accounts and insert the 'Follow us on Facebook', 'Follow me on Twitter' and 'My LinkedIn Profile' button in your WordPress site for online marketing. You will also learn how to embed YouTube videos, how to create a navigation bar using pages & categories, specify a new front page, how to create a contact form without publishing your private e-mail address and how to get rid of the 'wordpress' in your domain name if you choose to do so. Read more about the WordPress Advanced Course and please have a look at our feedback page to see what former participants say about our Advanced Courses.
WordPress.com 'Build your own site' – workshop to put your own site together – from concept to reality
This WordPress.com Build your own site will be quite flexible, it's all about your ideas, finding the right WordPress.com theme for your site and then setting it up together. We'll look at different WordPress.com themes (layouts) and discuss different features you'd like for your site such as a portfolio, a front page slider, darkened featured images to display headlines, scrollable image panels, columns with images on the front page to click through to your most relevant content, social media icons display etc. We will brainstorm on the navigation setup and will be able to use the group for invaluable user feedback, once we have a plan for each website you will set up your site with my help. We will also look into different sources of royalty-free images.
Read more about the WordPress.com Build your own site and have a look at our package price discounts.
WordPress.org – the self-hosted version
And then there is the self-hosted version WordPress.org – your options will be endless, but for that you will need to take more responsibility for your site. It's a bit more complicated to set up and run than a WordPress.com site, and you will need to sign up and pay for a domain and host, and take care of backups and updates – if you're comfortable doing that, you will love it and your site will be almost without limits! Read more about websites built in WordPress.org.